We've finally started the "Cob" project. i.e. Wea re covering the bamboo lath with our earth plaster. It's like a concrete, but you put it on by hand, and it doesn't require a heinous huge strip-mine, heavy machinery and lots of fossil fuels to create.
It's made of:
local sand
local soil (dug from our lot)
local hay (from a farm down the road)
water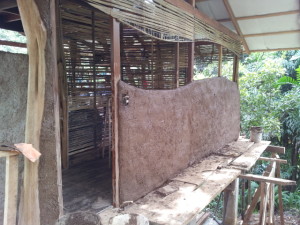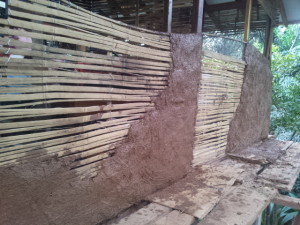 This is the first layer, a.k.a. the rough layer. There will be a smooth finish layer applied after this dries, and then after that we can paint it. It'll look like any regular plaster when it's finished, but we'll have the awesome pride of having built it ourselves without requiring heavy machinery, massive infrastructure, fossil fuels, slave labor, or strip mines. Sweet.