When we first got in to Fort Lauderdale I was horrified because it was such a mob of powerboating partyers, but now that things have calmed down a bit, we have had a little space to look around and enjoy what this area of Fort Lauderdale has to offer. It's great for gawking. There is a lot to gawk at.

Gorgeous mansions, each more beautiful than the next, and many in an elegant Italian style architecture, line the waterways, which are set up a little like the canals of Venice. It's a huge network of man-made canals created so that all these rich people could have waterfront property. It's really quite lovely. There are also a lot of marinas that specialize in dockage and storage of the most mega of megayachts. Here is a yacht so big we could not even fit it all in our camera viewfinder: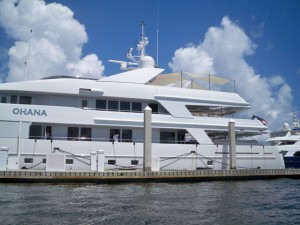 There is a staggering amount of wealth here, and in comparison our wee sailboat is like living in a cardboard shack, but hey, we're happy! And hey, we're still on the water — all the hundreds of powerboats that crowded the anchorage over the weekend all left on Sunday night and the only boats left in the anchorage are sailboats! Yay, sailboats! Time and time again we are impressed with the difference between sailors and motorboaters. While there are certainly exceptions to this generalization I'm about to make, we have found motorboaters to be much less friendly and helpful, and our main interaction with them has been them zooming by us at high speeds. Today we had a great example of how sailors reach out to one another to help out: we were cruising around in our dinghy looking for a place to park it so we could go ashore. One of the major drawbacks of this beautiful canal system is that 99.9% of it is totally private and there is no access for people like us to tie up our boat anywhere. We were poking around a marina to see if we might tie up our dinghy to one of the docks there, and a guy came over to us and said that the management would probably come right out and kick us off the dock, so we shouldn't tie up there. Then he offered for us to tie our dinghy near his sailboat, which was docked at a slip in the marina. He said we could be his guests. Notice he was a sailor, and he recognized us (maybe by our salt?) as other sailors. Big yacht owners would not even look at us, let alone offer unsolicited to help us out.
We met a nice guy in the Bahamas on a wee boat like ours named Patrick, and it turns out he is in the same anchorage as us here as well! So we hung out with him yesterday and strolled along the beach in Fort Lauderdale, which was absolutely throbbing with all kinds of people parading around. It was quite a scene.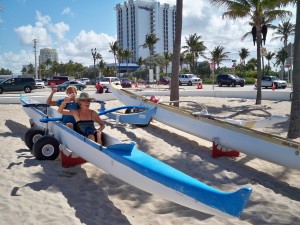 Patrick has a witty name for his boat: Thistle Dew. If you say it out loud, you hear the pun. Lots of sailors are punny, and we have seen some of the most creative sailboat names….ones like Assisted Living (a retired couple), C[esc], (a computer guy who escaped on his sailboat), and my personal favorite: Sail a vie. As long as I'm bashing motorboaters, here are some of the stupid names we have seen on powerboats: Me Too!, (that is just stupid!) Who Cares?, Revenge, Destroyer, etc.
We are ready to get outta here, and we have decided that we are bringing Wee Happy back to Marathon to store her on anchor in Boot Key Harbor for a few months while we go back and deal with some things in New England. We have friends there who are going to keep an eye on her, and that is the cheapest option we have found.
We have strong east winds forcasted all week that will allow us to fly down there pretty quickly, and we are hoping to make it there in 2 or 3 days.