Without even trying to make it happen, we stumbled into such a preciously delicious situation in the anchorage in Andros. The other boats here have become such a lovely little family, all tucked safely into the southeast corner of the cove at Morgan's Bluff. Every morning a group of us has been doing yoga in a beach hut seemingly made just for us, and at no charge.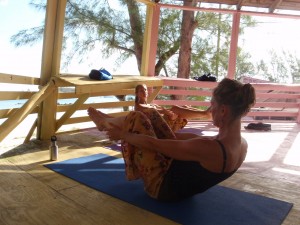 We have been having potlucks at night, and outings during the day. And best of all, there is a sense of security among us — we are all looking out for one another's boats, giving each other rides in our dinghys, and generally just being so wonderfully good to one another. The VHF radio has taken on a new dimension….it is the open discussion board for everyone in the anchorage to have a group chat while on our separate boats. We all get to listen to things like Francois the Frenchman and Allen the Irishman discuss in their wonderful accents the repairs they are doing to their bilge pumps, and hear about Mariah the 17 year old who forgot her flipflops on Allen's boat and could he bring them over to her. In the morning Jennifer would announce how late she was running for starting the yoga class, and since we are all on island time no one would ever mind. Mimi wants to know if someone can pick up an onion for her at the store. On land, this would be an unlikely bunch of people to become "like family", but we all had one great thing in common – living on boats and traveling in the Bahamas. So here we were, people as varied as Nate, a modern Huck Finn from Arkansas, who taught us things like how to use a "Hillbilly Bucket Anchor Alarm" (tie a bucket full of spoons or other pieces of metal to a leaded rope that hangs in the water. Put the bucket in the cabin. If the anchor drags, it will tighten the tension on the rope with the bucket, causing it to move and make enough noise to wake you up!) And then there was Allan, the great Irish sailor, who was full of rich stories of sailing in his beloved Ireland, and Michael, the college professor from Conneticut with a beautiful tattoos of a mermaid and Poseidon on his arms. And speaking of tatoos, let me not forget to mention Saunders and Tony, two young men who just finished serving in the Coast Guard and are now travelling together in a small sailboat called "GnarCrust" (short for Gnarly and Crusty). They are both COVERED in tatoos, and are on their way to Nassau to get more.
On Easter, or sometime around then, a new arrival came. A gigantic motor catamaran named Sea Wolff came into the harbor and anchored right next to us. They were a group of people from Cape Town, South Africa, and yes, they motored their luxury 47 foot megaboat all the way over here. Their boat, which is basically a floating 3 bedroom condo, is in an entirely different league than the rest of our lowly sailboats, and they are people we would not have been likely to brush shoulders with in other circumstances. But here they were in this isolated part of the Bahamas with a bunch of adventuring low budget sailors. To our surprise, they invited everyone in the entire anchorage to a dance and dinner party on their boat. We were all thrilled with that idea — dancing?!? on a boat?!? Count us in! So about 20 grungy sailors piled into their immaculately clean boat, and made merriment all night long. 20 people on their boat was not even crowded!
The front end of the boat even became a stage, and Mimi and Richard, the retired theater couple, entertained us with one of their hilarious skits.
The next day, Sea Wolff extended another generous invitation to the harbor to take everyone out snorkeling at a reef not far away. So we all got an board and got to experience this giant boat in motion, gliding across the bay, flying over the big waves. I felt like I was in a photo shoot for a yachting magazine ad featuring a luxury vacation in the Bahamas. Although the waves were pretty big and choppy out at the reef, the snorkeling was something you'd see on the Discovery Channel. Thousands of fish in vivid colors swam all around us, with purple coral fans as big as 8 feet tall dancing in the underwater currents. Some of the men, Cap't K. included brought their fishing spears, and by the end of the afternoon they had a bucket full of gorgeous snappers, parrotfish, pudgies,and grunts for dinner. One of the local Bahamians, Johnny, cooked them up for us Bahamian style and it was exquisite.
And then, poof, the bubble of ease and contentment burst with the change of wind. We had all been kind of stuck on Andros by relentlessly strong East winds, and finally they eased enough to allow us to go. Some of the sailors will continue traveling together, others are going their separate ways, blown in different directions by the winds of change. We are continuing on to the Exumas, and buddying up with Mimi and Richard on the boat Maffick. Good thing we have facebook to keep us all connected!