Here we are in beautiful Central America!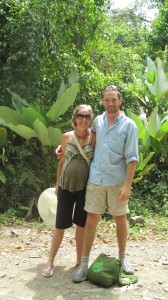 In keeping with our desire to have this experience in Central America be about easeful retreat in preparation for the birth of our child, we have chosen a different way to travel than we normally do. We have been taking the easy route, relaxing as much as possible, keepin' it simple. All my life I have traveled off the beaten path and was proud of being able to rough it. Camping, backpacking, sailing on a tiny boat, suffering… But not this time. I'm 8 months pregnant and all about cushiness and relaxation! For example, even though we took the cheap-o red eye flight down here, we made arrangements ahead of time to have a driver waiting for us at the airport to take us to our hotel(and bring our suitcases upstairs) the first night. No stressful car rentals or driving for us! (travel tip if you are going to Central America for the first time: do not try to rent a car! It's just not worth the stress of driving in a place with no street signs. Cabs are not that expensive. Just get a cab.)
Our first day was spent taking care of the most important business at hand — getting ourselves established with a doctor and hospital here. We had planned in advance to go with an American OB/GYN doctor and a private American style hospital in San Jose. We also decided to hire an American doula, or birth assistant, to help us navigate our way through the health system here as well as be present for the birth, assisting us in whatever way we need. We immediately loved the doula, and felt at ease and confident about working with her. The doctor we felt a little less enthusiastic about, although he is definitely competent and friendly. Now that we are here, we are going to investigate a few other care providers as well.
The next day we headed for our first destination, a small town on the Southern Pacific Coast. We traveled with a small group of people who were also headed to the event we were going to, a small fire circle festival. What a lovely place! Located on a steep mountainside with a stunning view of the Pacific Ocean, Selva Armonia featured beautifully designed permaculture gardens in a lush jungle setting. They are completely powered by solar energy and the buildings were unique open structures made of bamboo and cob.
And the ForestDance event turned out to be a nourishing feast of soul food, with beautiful, loving people creating music, dancing, and sacred ceremony together for a whole week. Just what we had been craving!

They even had a special ceremony one night to bless us and our baby. I don't know if I have ever felt so honored and blessed in my life. Our baby received some very special energy there that I'm sure will affect him as we prepare for his entrance into the world!
After ForestDance ended, we traveled with our dear friend Eileen up to the area around Manuel Antonio National Park. We found a fabulous little rental apartment in Quepos, a small town on the coast. We had a 2 bedroom apartment with a balcony overlooking the ocean, as well as a sweet little swimming pool and patio area in our "front yard". It was delightful!
I had injured my foot quite badly on our last day at Selva Armonia, and I was hobbling around painfully the whole week, barely able to put any weight on my foot at all. So I barely left the property the whole week, instead lounging by the pool and taking it super easy. Cap't K started calling me Gimpy Blimpy, since I wasn't moving around all that easily even before I hurt my foot due to my ballooning belly, which is really huge at this point!
One day we all went on a touristy boat ride, just to be able to GET OUT ON THE WATER, which of course we miss. (although I've been thrilled to be enjoying the comforts of a real house, like a big bed, hot water, and flat floors) The giant catamaran tour took us out in the ocean where we were likely to see humpback whales and dolphins. We had the treat of seeing a mama and a baby humpback whale jumping out of the water and splashing their tails.
On our last day we did make an effort to go out and visit a famous National Park, which is the most popular national park in Central America and reputedly "one of the most beautiful places in the world". There are two stunning beaches there, surrounded by lush jungle and populated by monkeys, blue morpho butterflies, amazing birds, and hundreds of other species of fabulous creatures. The highlight of the day for me was getting to see a 3-toed sloth.
What a charming animal. You can't help but fall madly in love with them! I felt a particular affinity to it's slow moving nature, since the heat and my late pregnancy status has been making me feel VERY slow indeed!
The walk through the park turned out to be bit much for me, and I was completely exhausted by the time we made it to the beach, but it was worth it to swim in the ocean on one of the most idyllic tropical beaches in the world!