We are sailing our way down to Marathon in the final leg of this portion of Wee Happy's journey. In fact today is probably our last day of sailing her for awhile. We have had perfect sailing weather too, what a blessing. East-northeast winds at around 15 knots has made for some awesome days of broad reaching. We have been cruising down Hawk Channel, which is wonderfully free of crab pots this time of year. We are about the only boat out on the water, too, except for the Customs and Border Patrol boat that stopped us yesterday to make sure we had cleared in with Customs when we returned from the Bahamas. (I guess somebody IS watching! good thing we went to all that trouble to check in!)
There aren't too many anchorages along this part of the Keys that dont require long detours over to the Gulf side, and last night we ended up anchoring near John Pennecamp state park in the mangroves, where the mosquitoes came out at night to devour us. It was a long bloody battle in the cabin of Wee Happy last night. We got up at first light and enjoyed a spectacular sunrise as we were setting out for the day.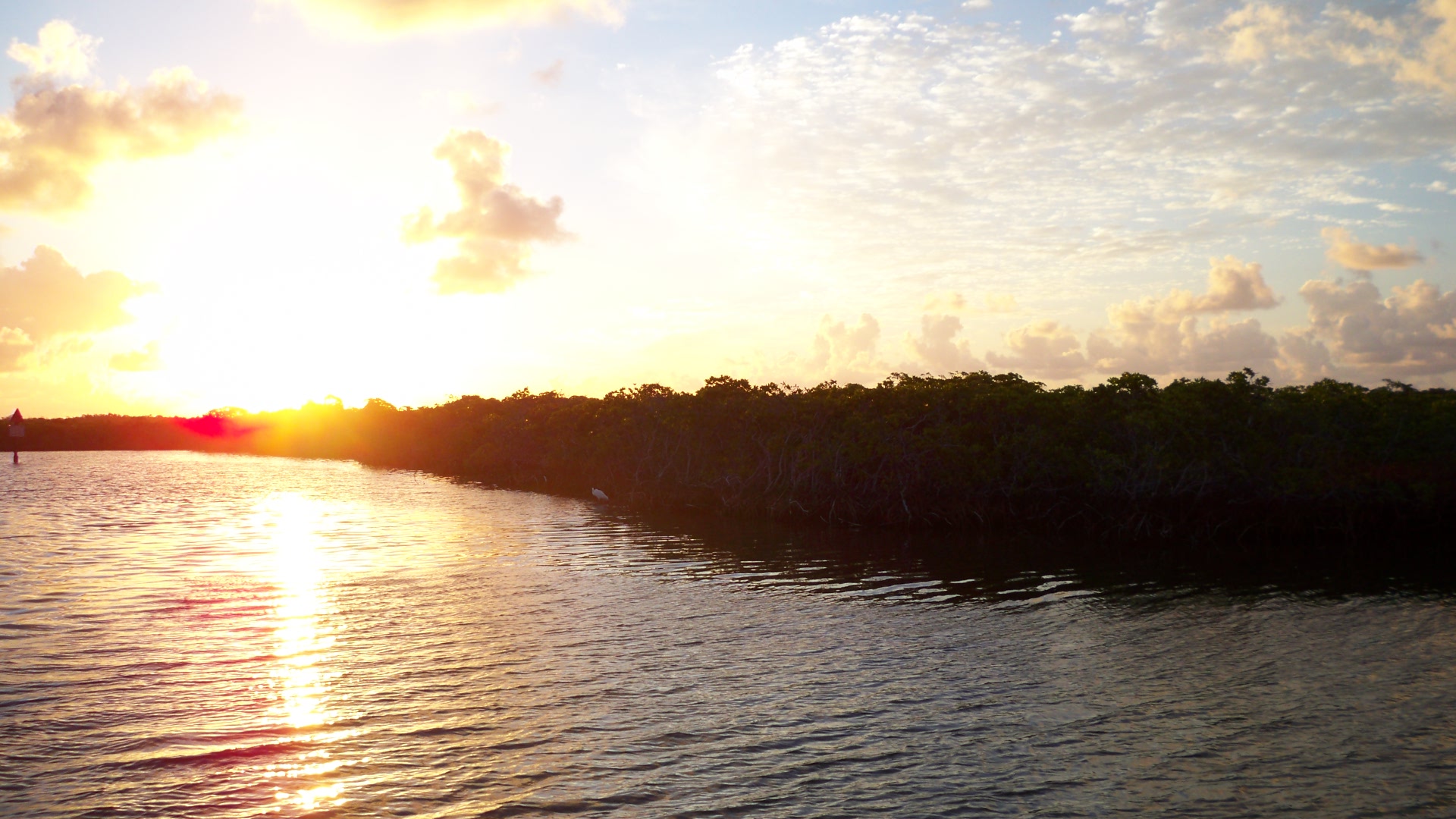 And so here we are, sailing along towards Marathon, where we will arrive this afternoon, just in time for a happy hour drink with our friends who are waiting for us there.
I am having a lot of mixed feelings about the end of our trip. I know that the journey continues always and other adventures await. We have been so blessed with a wonderful cruise! We have learned so much and grown so much by traveling this way together, and it will be interesting to see how this experience continues to work its changes in us as we move back to land, if only temporarily. We both would like to keep cruising, and we have both fallen in love with the "salt life". Indeed, we have actually become salty sailors now. Before, I only superficially understood what it meant to be "salty". Now I am starting to understand. This may sound strange, but I actually feel that the experience of literally being covered in salt for weeks on end has transformed us inside and outside. And I like how it feels. Aside from our back and neck pain from being cramped in this uncomfortably small boat, both of us have noticed that we feel better than ever since we have been living on the sea. Captain K's chronic sinus problems have vanished, and some mysterious vague health issues I had been having are also gone. It will be interesting to see if or how quickly they return back in New England. The thought of living away from the salt air and the blue horizon makes me want to cry, and I know I am going to miss this as soon as we leave.
Not that we are leaving this forever. Although our plans are still very unknown and we have a remarkable number of unanswered questions about what exactly comes next for us, we have decided that we want to continue cruising. Whether we will do it in Wee Happy or another boat, and whether we will be able to pull it off soon or in a year or two is undecided, but neither of us can really imagine just going back to land and living a so-called normal life.
A "normal" life does sound pretty good, too. After 8 months of living in a space the size of some people's walk in closet, it will be a delight to do some "normal" things. Like cook in a kitchen that is bigger than 2 square feet, and not rocking from side to side. It will be great to have clothes hanging in a closet, and a real bathroom with a mirror bigger than 4 inches.
We are particularly looking forward to the huge king sized bed we have in New England. Aaahhh, the simple things…..
I have been writing some lengthy posts lately, so I better let you all get back to work.
Until later,
– Capt'n K & Lala
P.S. this is what our cat Mojo has been up to lately: