We've spent the last few days at the beach.  Yep, we just want to reiterate, that after months of traveling through brutal cold, we are now livin' it up on the BEACH in the SUNSHINE, while most of the rest of you freeze your butts off in the cold winter.  And we are loving it! 
Believe it or not, we haven't really had that many "beach" days since we got down to Florida.  We've mostly hung out on the beach when we had visitors, so we could show them a "real" Florida vacation, but we haven't done much of the beach thing ourselves.  But here we are, on one of the nicest beaches in the Keys, and we don't feel like leaving anytime too soon. 
We anchored on the far end of the point, where there is a small anchorage between two bridges that has a reputation of being difficult holding in a strong current.  We had to try 7 times to get our anchor set!  That was an all time record for us!  Cap't K. built up some muscles pulling that anchor chain in 7 times!!  Once we got set, the current and waves didn't roll us too badly, although we have gotten spoiled being in the ultra calm Boot Key Harbor for so long.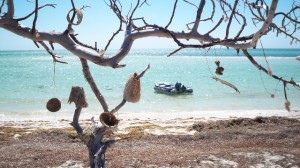 Yesterday and today we took our dinghy over to the far side of the beach and got K.'s kites set up to try kiteboarding.  We set up "camp" (hammock, picnic food, shade, etc) in our favorite magic spot that we found a month ago when my sister Stephanie was visiting. 
The water here is really shallow and extremely warm.  You can walk WAY out and still have the water only be thigh deep.  It's delightful!  I enjoyed watching the pelicans practice their "syncronized diving" techniques.  They float aimlessly in small groups, and then they will simultaneously start flying around, then they dive into the water at exactly the same moment. There didn't seem to be any fish where they were diving, so I couldn't help but wonder if they were just practicing diving for the fun of it or what. Maybe no one else cares about this, but I love pelicans dearly and so here is a little video of them diving. I think it's quite amazing.