Today Amanda and I explored a new section of the mangroves. An enchanting tour through a maze of roots, led by fearless kayak leader Lala.
Then we took Amanda out for a sail on Wee Happy.  We happy on the water with Amanda!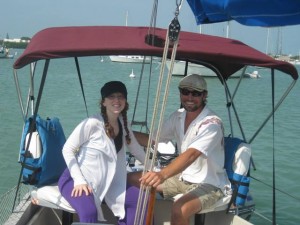 Later, while Amanda and I went to the beach to swim and lounge, Cap't. K was braving a fierce army of no see 'um bugs in the mangroves while fishing for our dinner. Those little bugs were fierce!! All mouth and no visible body! K. caught 3 snappers for our dinner and had a major process when it came time to kill and fillet the fish. A true existential crisis. Thank goodness our friend Kendall came by and helped him fillet the fish. We cooked them up for dinner and it was absolutely delicious!

In the next few days we will be planning and practicing for our first official fire performance in the Keys. We have a gig on Saturday night at the Sunset Grill, and luckily for us, Amanda showed up at just the right time to be our little drummer bitch. Getting punchy, I think its time for bed. More later. (for those of you who don't know Amanda, she is an excellent drummer).

After a wonderful, although too short, visit with my mother, we now welcome aboard the last of our string of visitors from the snowy and cold north. Our dear friend Amanda from Northampton, MA just arrived last night and is here to spend a few days with us. YAY! When she arrived last night we managed to have what we have been CRAVING for months — a fire! A little fire circle with our friends Kurt and Kristina. We busted out the drums and some chanting and made some music around the fire. Aaaah! Medicine for the soul!