Our last few days in the Bahamas have been both lovely and challenging. We spent a day on Andros, where we reconnected with a few friends we met there earlier, Tony, Saunders, and Harvey. We cleaned the bottom of Wee Happy, who had started growing a scary amount of fuzz under the waterline. She needs a new paint job asap. We inquired about a catamaran that was anchored in the harbor there that was rumored to be for sale at an unheard of low price. It seemed like such a once in a life time deal that it was worth checking out. we managed to track down the owner with relatively little trouble, and when we told her we had come to inquire about her boat for sale, she laughed and said "no, no, no, no, no it's NOT for sale!!!". Ok, well that answers that.
The weather forcast showed a few days of relatively calm weather, which was to be followed by increasingly strong winds from the northeast. In order to get safely across the Gulf Stream, we wanted to avoid northerly winds, so we decided to book it out of Andros early the next morning to get to our launch point for crossing the Gulf Stream. We left in the wee hours of the morning in the dark, and motored our way out onto the Great Bahama Bank. We were hoping for at least a little wind to push us across, but the whole day was dead calm, and we unfortunately had to motor the whole way. The Great Bahama Bank is like a giant desert covered in 10 feet of water. It feels vast and barren. There arent really any fish or coral or underwater plant life, it is just miles of white sand covered in clear water. It is quite surreal, and the hot day featured beautiful mountainous ranges of cumulous clouds all around the horizon line. At one point I got so hot I just had to jump in the water, so we stopped the engine, jumped off the boat, and just floated out there in the vast blue water. The water in the Bahamas is undescribably delicious — so perfectly clear and just the right temperature. I am going to miss swimming every day so much when I get back to the States. We are forever spoiled now after getting to swim every day in this type of water – all other water is going to seem disgusting in comparison.
Here is a starfish we could see on the bottom from our boat at anchor: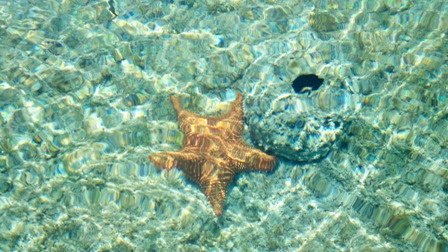 We arrived in our anchorage at Cat Cay right at sunset. And a stunning sunset it was too. It felt like we were sailing right into the gates of heaven.
The next morning we listened to the weather again and decided to wait one day to cross the gulf stream. There would better wind for sailing on Sunday, and we would just beat the northerlies that were arriving late Sunday. Or maybe we decided to wait one more day because we wanted to enjoy the Bahamas just a little more. Im not looking forward to being back in the busy land of cars and big box stores and work, as much as we know that it is time. I have been having alternating moments of loving our little life on our little boat more than ever, savoring the sweetness of being out here in the beautiful turquoise water. And I have also been having moments of hating our little boat with an increasing passion and wanting nothing more than a real bathroom and some SPACE, dammit!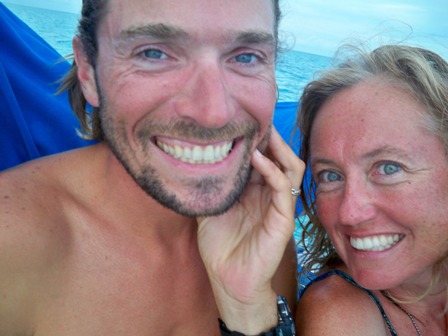 So our last day was a bit of both of those things. But it was mostly sweet and relaxed, and it was an equisite day filled with dreamy clouds in a blue sky over blue water, and coconut palms on the beach. We took the boat over to the other side of Cat Cay to position ourselves better for another early morning departure in the dark. On the way we tried fishing by throwing a line off the back of the boat. We saw one group of huge yellowtail snapper, but didnt catch anything. Once anchored we found a small coral head and went snorkeling on it. It was covered in huge fish and Captain K speared two of them for dinner! Yay! Fresh fish on our last night in the Bahamas!!! While Captain K the fisherman cleaned the fish I swam over to the little beach and found the most amazing collection of conch shells that had been washed up on the beach. The pounding of waves and sun had turned them into artistically sculpted masterpieces.
When we put down our anchor it seemed calm enough. No big waves and minimum rollies. We put out our "rocker stoppers" and the boat floated serenely on her anchor. We figured we'd be fine. After we went to bed, however, the rocking began. Swells from the ocean came rolling in and rocked the heck out of us all night long. It was the kind of swells that rock the boat sideways back and forth with a somewhat violent, sharp, incredibly annoying motion, and it is impossible to sleep through, although, believe me, we tried. We hung on tight in our bed and hovered on the edge of sleep all night…..our last night in the Bahamas.
– Capt'n K & Lala