So here's the latest news:
1.  We got our cat back!  Here is a picture of him in all his fuzzy sweetness: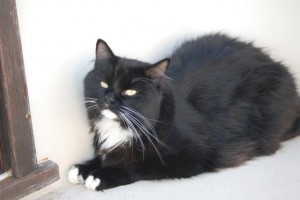 He is just as wonderful as ever — cuddly, affectionate and sweet as a cat can be.  Even the people who found him (bless their hearts!!) commented on what a good cat he is.  He's got some good Mojo, this cat!!  Please let me express my thanks again to my dear friend Erin and her awesome daughter Sasha who went and picked him up and brought him to us in rainy Saugerties.
2.  We have escaped Saugerties, and after a night out dancing in Kingston (whoo hoo!  a BIG FLOOR to move around on!!)  and had an exciting SAIL on the Hudson River.  SAILING, what a concept!!  Yes, we are living on a sailboat and you probably think that all we do is sail, but to be honest, we've only had a few good sailing days so far on our trip, and TODAY was one of them.  We're talking full on power sailing, with both sails raised and the boat keeling over 45 degrees.  Watch your drinks or they'll definitely spill!   We didn't have things stowed in the cabin well enough and the interior of the boat was mass chaos with things flying everywhere.  The cats were wondering what the hell was going on but they stayed pretty calm.   We were speeding along at 7 knots at times, which is REALLY fast for our sailboat.   As an inexperienced sailor, it is still really freaky to have the boat speeding along nearly tipping sideways into the water, but I managed to keep my wits about me enough not to crash into any other boats or land or anything else.  WHOO HOO!  We are tired now after a "stimulating" day.  We are anchored near the majestic Storm King Mountain (what a marvelous name for a mountain, don't you think?) which happens to be next to Pollepel island with a CASTLE on it.  It's called Bannerman Castle, and yes it's in ruins, but it's still romantic and wonderful nontheless. 
3.  The other big news is that K. changed his pants and is wearing a different pair than the same ones he was wearing everyday for the last two weeks.